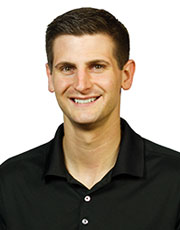 Jason Rose
Owner/Lead Instructor
His work includes:
• 13+ Years Training Experience
• Personally Trains Over 200 Athletes Weekly
• High School Coaching Programs
• Corporate Training Programs
• Youth Program Clinics
• Head of Business Development
• Videographer of whatdriveswinning.com
• Personally filmed and directed hundreds of video interviews with professional athletes, championship coaches and leading researchers
---
A NOTE FROM JASON:

What the game taught me

When you have a lot of success, it can be comfortable. Coming from a small town in Idaho I was statistically one of the best players in the state. I thought I was good. Really good. Who wouldn't, when you are able to dunk, averaging double-doubles and people in town were constantly asking you, "What college are you going to play for?"

I was trapped in a fantasy. Soon after, I received a reality check. There were no scholarship offers. However, I was determined to prove that I had what it takes to play at the highest level of college basketball. I trained countless hours during the summer after High School and during my freshman year of college. I then accepted a walk-on position at the University of Idaho. After 3 years of limited playing time, I realized… maybe I was called to do something different.

People always told me, how hard of a worker I was, but that was always unsettling for me. After time, I came to understand that, sometimes, hard work alone doesn't guarantee you'll reach your goals. However, it does guarantee a journey of personal growth to help in reaching a successful place. That place is now here in Missouri and there is not a day that goes by that I don't think about how much this program would have helped me in my development on and off the basketball court. For that reason, I'm committed to doing everything I can to give your child the best opportunity to succeed. Over the past 12 years, while training, I have personally traveled across the country and spent numerous hours studying the best coaches, players, sports psychologists, and best selling authors to learn how to maximize human performance.